Credits for this site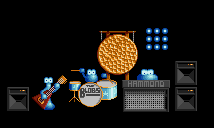 We would like to thank to the following people:



Tommy Stenberg (StarEye)

of EAB, who contributed us the photos of GBH Silly Putty release package.


Dan Phillips

for valuable infos about the game


David Crooks (Retro Gamer magazine)

for helping us with the site promotion


Killergorilla

of EAB for his advices where to find the preview and for cunstructive critics


x_to

for GFXrip which helped us a lot.


Toni Willen

for WinUAE
Our

girl/friends

for patience as it took a long time to develop Puttymoon.